NPR's award winning programming and groundbreaking journalism wouldn't happen without the work of so many women, who continue to make strides in the industry and put out some of your favorite content both on the mic and off. To wrap up this International Women's Month, NPR is highlighting some of its brilliant stars.
Amanda Aronczyk, Mary Childs, Erika Beras, and Sarah Gonzalez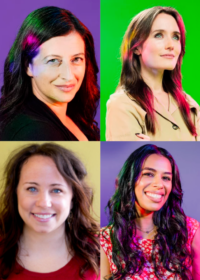 This incredible quartet of co-hosts and reporters at Planet Money continue to find creative, entertaining ways to make sense of the complicated forces shaping our economy. Through their fastidious reporting and deliberate educational, jocular tone, they have each radically forged a pathway for their global femme-identifying audience to achieve financial literacy. With them at the helm, the Planet Money podcast is set to take on any economy.