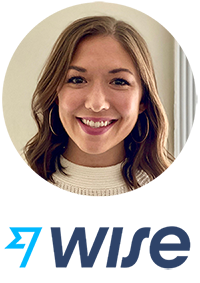 Launched in 2011, Wise (formerly known as TransferWise) had a vision of making international money transfers cheap, fair, and simple. Today, their multi-currency account helps over 10 million people and businesses manage their money across the world. We had a chance to sit down with Cassie LaPrairie, Audio Marketing Manager at Wise, to share more about their recent rebrand and how audio played a key role in their marketing strategy.
Wise has invested in podcast advertising for some time now. What appeals to you and your team about the audio medium?
Wise has been increasing its investment in audio advertising for the past four years, and it remains one of our quickest growing marketing channels. And for good reason! 
First, the size of the opportunity is significant. Every day, the amount of quality audio content being produced is expanding, audiences are growing larger and more diverse, and the technology connecting it all is becoming more sophisticated. At Wise, I believe we are just scratching the surface of what is possible with our audio advertising.
Additionally, audio creates a certain intimacy with listeners that is difficult to find elsewhere. Being able to access people while they're in that unique frame of mind and to engage with them in a genuine way is special. At Wise, authenticity, transparency, and accessibility are core to our entire business model, and so our brand voice and story feel very well suited for this environment. 
Recently, Wise launched a brand campaign promoting its latest tools and services. How did you map out your media plan for this campaign?
While Wise is growing fast (10 million customers and counting), we know that we won't achieve our mission unless we pursue that growth sustainably. For our marketing team, that means that we're quite performance-driven and we keep a close eye on things like cost-effectiveness and payback.
When evaluating opportunities, being able to easily access data (i.e. download information, performance benchmarks, audience insights, etc.) helps us evaluate whether we are in fact reaching the right people in the right environment. 
The data and insights that we receive from NPR are crucial in giving us confidence that we're reaching an audience that needs our product. On top of that, we're proud as an organization to support the excellent journalism produced by NPR and to be associated with the work it does. 
Tell us a little bit more about your campaign on NPR! What is the campaign about and what were your goals?
Our most recent sponsorship campaign with NPR, while ultimately geared toward acquiring new users for Wise, was also aimed at driving awareness of Wise's growing suite of products for people managing their money internationally. Wise (formerly TransferWise) underwent a name change earlier this year, and so we adjusted our messaging to reposition Wise as not just a money transfer service, but a one-stop solution for many different international banking needs. 
As part of this, we worked with the NPM Creative team to produce a Brand Soundscape for Wise. This was the most custom sponsorship creative we've produced so far, and it was the first time that our audio ads featured one of Wise's customers.